Recently I conducted a Training Session for PSB Academy on "Business Etiquette – How to Impress and Get them to remember your name!"
Here are some 2 simple ways to engage your audience.
1. Discussions.
Pair up, group discussions, etc. Constantly apply them and people will enjoy it!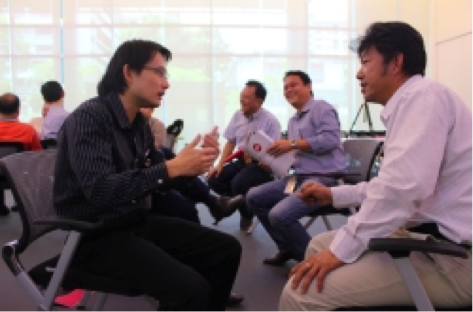 2. Kinaesthetic movements
Engaging them through movements can inject fun too, so use them to create energy in your audience. I always believe that great training sessions are all about engaging the audience in participating with you.
Here are some testimonials I received:
The title was interesting and I know I will gain some knowledge and improve myself better. Body language and facial expression plays an important part in my both family life and working life. It will definitely benefit my whole family. Today's seminar will be a role play to my only daughter who is still waiting for me to talk about the topic (at home). She has been SMS-ing me to come home faster and teach her. Well done and keep it up Kenneth.
Lalitha
DSTA
I will like to thank Kenneth when he taught me how to introduce myself to people to let people have a good impression of me and also know how to boost my confidence through my posture. I feel that after this lesson, I am able to introduce myself well and have confidence in myself during a conservation. The way he teach is very interesting especially the class activities during lesson to let me understand the topic better.
Ms Lim
I have learnt how to do the 60 seconds introduction interestingly. I like the way how Kenneth actually makes us remember his name. I will definitely try to use whatever he have taught us when I talk to my client. Thanks Kenneth.
Christina
NTUC Club
If you like this article, please subscribe to our blog by getting the Free Report on "7 Transformational Secrets to creating a Dynamic and Cohesive Team". If you have comments, I would love to hear them. Please post them below.