Recently I was invited in as a keynote speaker for Health Science Authority (HSA) to speak about how they could build trust with the public. With over 250 people in their auditorium, I approached it from a perspective that organizational trust starts from building individual trust level.
Trust Building
I see trust on two levels, the first is the individual level and the second on the organizational level. You see, you can't focus squarely on the organizational level without first looking at the individual level.
For trust to be built on the individual level, you have to ensure that your personal character is flawless.
The more congruent a person is with what they believe, say and do; the more people will trust them. The truth is that a lot of us has difficulty with being congruent.
We can have honest intent, but if it is not backed up by actions, people will slowly lose their confidence in us. Whether it is just pure carelessness or just forgetfulness, everyone has to ensure that the words that we use are constantly adhered to.
This means that the promises that you make to your colleagues, spouse and even kids, have to be kept. For example, this could mean that you will arrive punctually for dinner/meeting, fulfilling your promise to read the story book to your child or even something as small as sending an email by a specific deadline.
Sometimes it is not just acting on your promises and but also on your threats.
For most people, they could act on their promises (at least most of the time), but not many actually act on their threats.
If you do not act on your threats, you are just like a toothless lion, one who roars but has no bite. This will also let people to perceive you as incongruent. If you feel that you could not act on your threats, I believe the best thing for you to do is simply not make any threats. Do not make empty threats you have issues following through.
More about the personal character portion: a person who has very strong values, talks and lives by them, tends to be more trustworthy in the eyes of their colleagues.
I have seen leaders who espouse specific values of the company and relate to how they make decisions on a daily business.
I heard of how a business leader who talked about why they withdrew their operations from a particular country simply because they had to compromise their values. Losing a bit of money is ok because at the end of the day, you actually gain the trust of your stakeholders and other business clients.
The next part in building trust on the individual level: Ensure that you are competent in what you do.
Competence basically means being really skilled in what you are supposed to do. You will tend to believe a person with experience and having a high standard of doing things, compared to one without experience and displaying a sub-par standard.
Therefore, in our social interactions with each other, we need to always bear in mind that trust is a function of both our character and competence. Both of them has to be on high levels so that people can trust us in all circumstances.
Once the individual trust levels are established, it is much easier to talk about organizational trust. When people look at your organization, what kind of values pop up in their mind? If they perceive your organization to be values driven and purposeful in its mission, you will build a lot of 'trust capital' with the public.
If you cover up on what the mistakes you have committed, it is a sure way to erode public confidence in your organisation.
Example of losing trust
Consider what happened during the ponding incident in Singapore in December 2011 (where there was really bad flooding). Public Utilities Board (PUB) argued that there was no 'flooding' in Singapore but only 'ponding'. This created a public outcry where people posted photos in social media on areas where flooding took place, eg Bukit Timah Road and Orchard Road.
However, PUB argued based on the technical definition of flooding but the public did not want any of it. This resulted in a lot of unhappiness with the inability of the government to quickly take active steps in solving the flood issue.
The whole episode ended only when the Minister for the Environment and Water Resources, Dr Vivian Balakrishnan apologized for the wordings used and acted swiftly to increase the capacity of the canals (10 Jan 2012).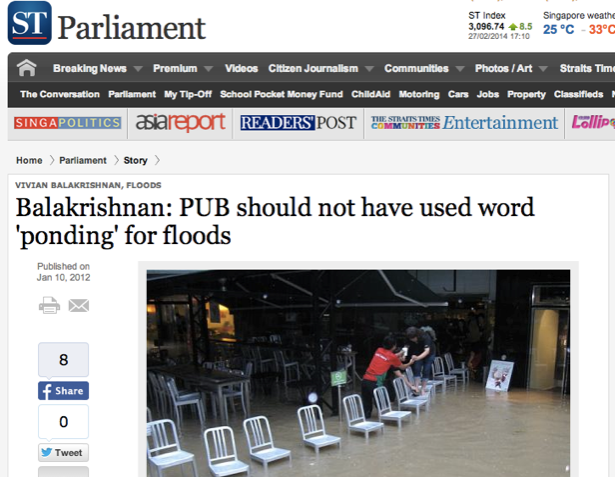 The public's fury thus was quenched because they wanted the government to admit its mistake and act swiftly on it.
I have personally learnt that it will be a matter of time before mistakes will be made. The question is how fast will we admit and address the situation.
Here's a quick summary on building trust
Ensure that you are flawless in areas of competence and demonstrate excellence in competence. When you make a mistake, admit it quickly and demonstrate swift action to correct it.