Deep Impact Team Building presents
The Secret Psychology to High Performance Teams
Are you concerned about the level of trust and cohesiveness of your staff?
Do you worry about the high level of staff turnover?
Do Office Politics harm your work environment?
If so, this will be the most important message you'll ever read!
Most of us know that we need to work together, however do you see your staff actively playing WIN-WIN-WIN for themselves, colleagues and the Organisaton? Most programs tackle behaviourial problems or even skill issues but not many deal with issues of the Belief System and Attitude.
We seek to address those issues and tackle the root cause of them.
Deep Impact will bring you activities which will create a DEEP Impression by reframing the thinking patterns of each person. If you are ready to start making the necessary changes to achieving dynamic relationships and great attitude within your team, then Deep Impact Team Building is the place to begin.
The Deep Impact Team Building Experience
Here are just part of what you will experience in all our teambuilding programs:
Strong powerful lessons that will change your behaviours.

Proven concepts and belief systems to play win-win-win for everyone!

Align mindset towards a common objective and work together for better results.

Get people to speak up and voice their opinions (even those quiet ones).

Set up a culture of love and support within the organisation.

Create a team of action takers, who make things happen.

Remove silo-mindset and see how each function contributes to the organisation.

And much more!

 
This program is about inner strengthening of the team. It is an opportunity for you to see yourself in an entirely new light – the absolute best of your team. The learning is truly transformational and can be applied to all aspects of your daily life. If you are committed to experience a more Dynamic Team, then commit yourself and do whatever it takes to make this happen!
Here's what others have to say about Deep Impact Team Building:
The seminar has conveyed simple but important and effective skills and concepts for our organisation. Through interesting games, my staff are able to retain the concepts and more importantly, practice what they have learnt. This 1.5 day programme surely will leave a deep impact on our organisation. We return to our job more united as a team.
Dr Edmund Lam, CEO
Composers and Authors Society of Singapore
Kenneth's session has managed to help AFSC in enhancing the team morale, improved communication, greater appreciation of differences of one another, greater unity and mission focus, and better understanding of each other's needs, talents and desires.
ME6 Stewart Ng, Commanding Officer
RSAF Air Force Supply Centre
Excellent Program. Simple activities to bring across points and core values that is key to organizational success.
Tan Yuh Woei, Country Manager
Symantec Singapore
Why Deep Impact Team Building?
1. High Energy
Never a dull moment, anymore! Over at Deep Impact, our highly experiential teambuilding activities creates a high energy environment that makes people actively participate in the program.
Our activities engage participants of all levels and ages, and this helps to develop interaction and support for team members.
2.  Meaningful Fun 
Still remember the last time you played some childish games in a team building program, and felt so embarrassed that you wished you were not at the event at all?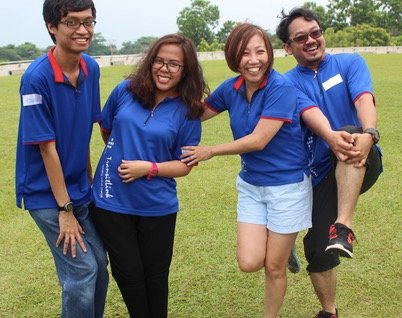 But don't worry, you will never go through this humiliation here!
At Deep Impact, all our teambuilding activities are fun with solid business lessons behind it. And that's what meaningful fun is all about.
People come out being impressed in their heart on what they should do and even bring lessons back to the workplace and home.
3. High Learning Retention
What makes Deep Impact Team Building stands out and highly favored by so many directors, managers and executives of MNCs and government agencies, is the high learning retention achieved after the team building program.
90% of our team building participants remember and apply the lessons they learn back in their workplace. Even after 6 months to 3 years later, clients even talk actively about the lessons learnt!
What others have to say about Deep Impact Team Building:
Concept of "Effective Teams" well delivered. Sharp and concise delivery. Fun elements helped too. Good work to Deep Impact and Team! 
Karen Chang, Senior Associate Dean
Duke NUS Graduate Medical School
The teambuilding program opened up discussion about the understanding of others' management style. The balance of fun and content was good too!
Anthony Page, General Manager
Singapore Marriott Hotel
Excellent Program. Very well organized and able to elaborate the importance of team work. Everyone enjoyed the program and most importantly, we have very good takeaways on the impact of teamwork. 
Spencer Tan, Vice President
ST Kinetics Automotive Services
Invite Deep Impact to work with you to create an extraordinary teambuilding experience for your team now!
Return from Team Building Singapore to Deep Impact Training Programs